Providing help and direction for you and your business
Business advice for all types of business, from small to large corporate
An accounting company with vast experience of various market sectors
With you for every step of your financial future
COVID-19: Important Information for Clients
---
In light of the recent communication from the World Health Organisation and Government announcements, we would take this opportunity to confirm the steps we are taking as a business to ensure both our well-being and your own, whilst maintaining high service standards so that you receive the support you need throughout this difficult time.
We are closely monitoring the guidance and government guidelines to uphold our corporate social responsibility to our staff and clients alike. In addition to general guidance we are reviewing ongoing financial developments so that we can provide you with any specialist support you may require to ensure your businesses sustainability. We are happy to discuss with you any support, government or otherwise that may available for your business now or in the near future.
We have taken the decision to temporarily close our offices albeit we will still need to perform some essential services from these to ensure continuity of service, clients are also able to drop of records if required however we request that this is by arrangement only. If you cannot contact your usual office please try and contact Newton Abbot 01626 358500 or info@darnells.co.uk.
Alternative contact numbers are as follows:
Partners – Paul Beard (07786 916294), Phil Raisey (07739 212598), Sean Murphy (07710 198037), Nick Holmes (07889 724534), Lisa Dickinson (07920 525165), Simon Wood (07731 462408) or Louisa Norton (07986 934 663)

Totnes – Amanda Bilsby (07850 594479) and Jason Milden (07738 280228)

Exeter – Mark Smith (07712 603955)

Payments and Credit Control – Sharon Kierman (07738 321776)
Please visit out Facebook Page for regular updates https://www.facebook.com/darnellsaccountants/
What We Are Doing
As we witness the strain COVID-19 is having on business activity we wish to assure you that we have taken precautionary measures to best ensure that your accounting and advisory needs can continue to be met.
• Our staff are equipped to work remotely from home and provide uninterrupted email and telephone support.
• To minimise any risk or unnecessary exposure we kindly ask that you work with us and consider postponing any non-urgent visits to our offices.
• In addition to our ongoing email and telephone support, we are happy to offer the alternative of video conferencing via various platforms should you wish to discuss any matter face to face.
In times of great uncertainty, we wish to assure you that we are confident we have taken the precautionary measures needed to ensure that we can continue to operate business as usual. If you have any questions or require any assistance, please continue to contact your usual Partner or point of contact.
We thank you for your cooperation and custom.
Business Support
The following measures have been announced by the Government;
• A number of grants to help cover some of the costs incurred by the business more details of whihc can be found at https://www.gov.uk/coronavirus/business-support
• For those with cashflow difficulty consider requesting from HMRC Time to Pay arrangements in respect of VAT, PAYE, Income and Corporation Taxes. A dedicated helpline has been set up to help businesses and self-employed individuals in financial distress and with outstanding tax liabilities receive support with their tax affairs. Through this, businesses may be able to agree a bespoke Time to Pay arrangement. If you are concerned about being able to pay your tax due to COVID-19, call HMRC's dedicated helpline 0800 0159 559.
• Discuss with your Bank the possibility for repayment holidays on monthly payments coming due.
Over the course of the weeks the details of these schemes have become more details and clarifications have been made, there are undoubtedly some businesses which have fallen through the gaps of how the schemes are operated, if you are unsure of whether any of the grants apply to your circumstances please contact your usual partner or manager and we can discuss these with you.
The Partners
Darnells Chartered Accountants – 2 June 2020
Why Choose Darnells?
---
Accountants don't add value by looking back to tell you what has happened.
The Darnells' approach is to look at your future, how you can achieve your ambitions, how to reduce the risks and to assist you with your digital day.
Latest Tweets
Don't forget the inheritance tax annual exemption. £3k per donor a year. Use it by 5 April – but if unused you can… t.co/vTBWcHKpEa
Retweeted by Darnells
Get in touch to book your place #Employment #Law #update #breakfast
Retweeted by Darnells
Show

Media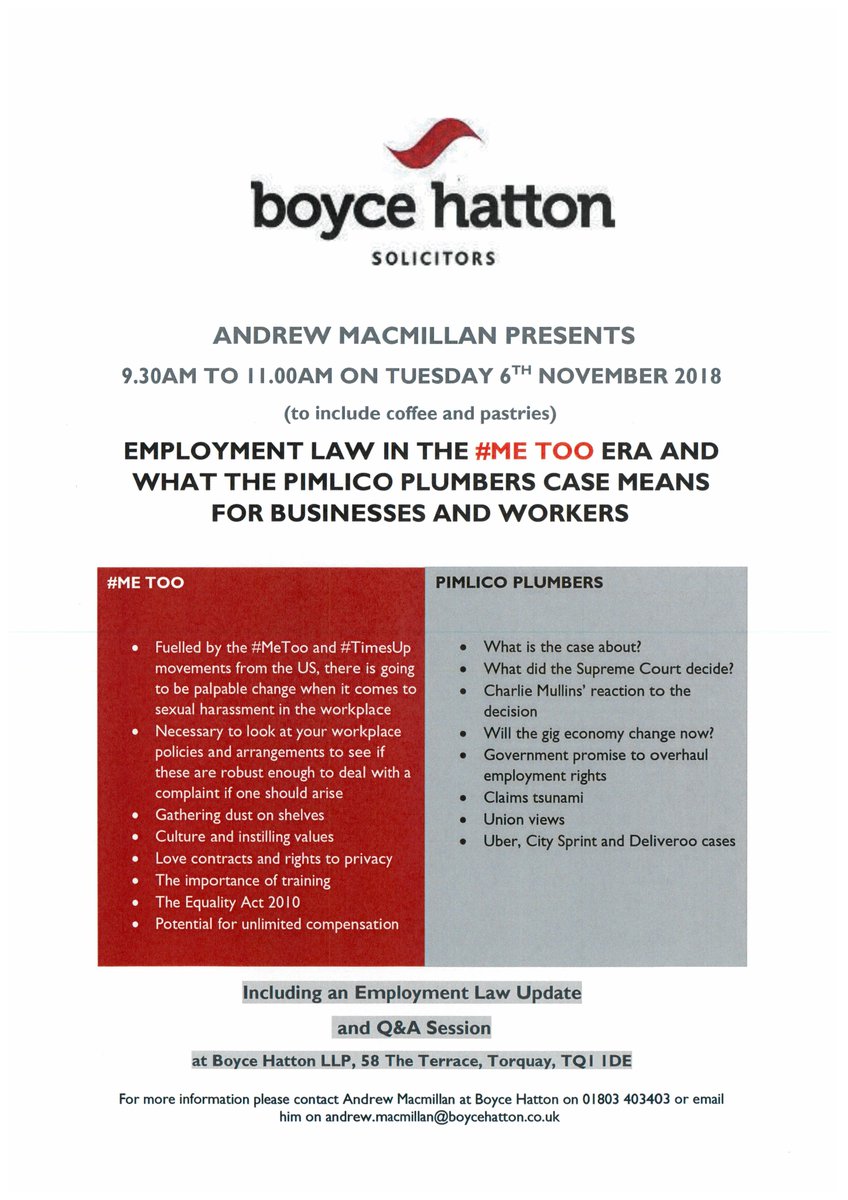 Yay! It's the WIT Christmas Party! #networking #wine who's in? @BFinTorquay @pkfFrancisClark @Darnellsaccount
Retweeted by Darnells
Show

Media