Providing help and direction for you and your business
Business advice for all types of business, from small to large corporate
An accounting company with vast experience of various market sectors
With you for every step of your financial future
COVID-19: Important Information for Clients
---
The last few months have seen a wide range of changes to the way businesses operate and now that the lockdown has been eased and businesses are starting to open up again the Chancellor set out on Wednesday a number of additional schemes that will help benefit both businesses and individuals over the coming months. We would also like to take this opportunity to remind you of a few key grants and schemes already in place and any deadlines that may affect you.

Coronavirus Job Retention Scheme (CJRS) – the first iteration of the scheme came to an end on 30 June 2020 and with that a few issues need to be checked. Please ensure that the claim for the period up to 30 June 2020 is completed by 31 July 2020 at the latest, no further claims will be possible after this date for the period prior to 30 June 2020. The second scheme then takes its place from 1 July 2020 and with that a few changes in the way that it works.
The employee can be flexibly furloughed in that they can be brought back from furlough for as many hours as you need them to work and reclaim the element that they are furloughed for in the meantime
No new employees can be put onto furlough after the 1 July, however if the employee was furloughed at any time on the CJRS1 they can be put back onto furlough during CJRS2.
Coronavirus Job Retention Bonus (CJRB) – announced by the Chancellor this week the bonus scheme will give £1,000 per employee (paid to the employer) for every employee that was put onto furlough during CJRS1 and has been retained as an employee by the business throughout the period to 31 January 2021. The employee will need to earn at least £520 a month on average for November 2020, December 2020 and January 2021. Employers will be able to claim the bonus from February 2021 once accurate RTI information from Payroll has been submitted to 31 January 2021. More information in this will be published in the Autumn.
Self-Employment Income Support Scheme (SEISS) – applications for the first grant closed on 13 July 2020 which gave up to 80% of the three months average profits up to a maximum £7,500 based on the 2019, 2018 and 2017 tax returns submitted. The main issue that we have found for clients not being eligible for this grant is that 50% or more than your average total income needs to come from Self-Employment. The other key conditions are:
You traded in the 2019/20 tax year
You intend to continue to trade in the 2020/21 tax year
You carry on a trade which has been adversely affected by Coronavirus. Examples of this have been given by Gov. and mainly focus on whether your normal income levels have been reduced because of this.
Average trading profits less losses in the year must not exceed £50,000
The second (and final) iteration of the SEISS scheme comes into effect from 14 July 2020 and claims will be open for this from 17 August 2020. This will be restricted to a maximum claim of 70% of 3 months average income to a cap of £6,570. The same eligibility conditions apply to the second scheme as they did the first and you do not need to have claimed on the first scheme in order to qualify for a grant on the second scheme. However, just because you qualified for the first scheme doesn't automatically entitle you to claim on the second scheme.

VAT Reduction – from 15 July 2020 until 12 January 2021 the UK government will cut VAT from 20% to 5% on any eat-in or hot takeaway food and drinks from restaurants, cafés and pubs (excluding alcohol). This VAT reduction also applies to all holiday accommodation in hotels, B&B's, campsites and caravan sites as well as attractions like cinemas, theme parks and zoos.

Where you are using software the 5% VAT rate should already be set up in the system for you to use and may be referred to as the 'Lower' or 'Reduced Rate'. Please ensure that you separate out your takings accordingly for each type of income stream where you have mixed supplies, this will ensure that should HMRC ever look at this in the future a full audit trail is maintained. If you calculate your VAT manually, and perhaps maintain a spreadsheet you may be calculating VAT based on the gross takings. For a 20% VAT rate the VAT amount from Gross takings is 1/6th of the income, for 5% VAT this is 1/21st. For example you sell £50.00 of food including VAT, previously this was broken down into a net amount of £41.67 and VAT of £8.33, this same £50.00 will now be £47.62 net and £2.38 VAT.

If you are a business that uses the Flat Rate Scheme the %s will be amended to reflect this change, these can be found at https://www.gov.uk/vat-flat-rate-scheme.

We are not yet sure of what the general opinion will be towards the VAT reduction is and whether this is going to be passed onto customers, although no doubt many customers will be expecting to see a reduction in prices. There is no requirement for this to be automatically be passed onto the customer but can be retained by the business in which to cover the additional operating costs from having to operate at a reduced capacity and more frequent cleaning schedules. However, that may not be the market conditions that arise from this and will need to be looked at on a case by case basis.

Eat Out to Help Out Scheme – during August diners can get 50% off Monday to Wednesday on meals and non-alcoholic drinks, up to £10 per person when eating at participating restaurants, bars, cafes and other establishments. There is no limit to the number of times a customer can use the offer during the period of the scheme. Alcohol and services charges are excluded.

You can register if your establishment
Sells food for immediate consumption on the premises
Provides its own dining area or shares a dining area with another establishment for eat-in meals (i.e. food courts)
Was registered as a food business with the relevant local authority on or before 7 July 2020
Registration for the scheme will open from 13 July 2020 and can be accessed at https://www.gov.uk/guidance/register-your-establishment-for-the-eat-out-to-help-out-scheme.
Stamp Duty Land Tax (SDLT) – the threshold at which SDLT needs to be paid has been temporarily increased until 31 March 2021 from £125,000 to £500,000. This only affects the purchase of your main home and does not apply to multiple property purchases. For a purchase price of £300,000 this could save £5,000 in SDLT (assuming you were not already a first time buyer).
Business Support Grants – If you were eligible for the business support grant you should have already received this from the local authority although we are aware of a few issues with rateable values and who the rateable person was on the claim date. However if you have not received this yet and have business premises it is worth checking to make sure that you are eligible for it.
In addition to these grants the local authorities were issued with further funds which are discretionary and looked at on a case by case basis. Each local authority has a slightly different application process and in order to qualify for this grant you cannot have obtained the Small Business Grant or Retail, Hospitality and Leisure Grant.
This may be a good option where your rateable value is greater than £15,000 and therefore did not qualify for the small business grant but you are not part of those specific sectors and didn't qualify for that grant either.
Coronavirus Business Interruption Loan Scheme (CBILS) and Bounce Back Loan Scheme (BBLS) – Applications for these loans are ongoing and are applied for through your bank. The loan amounts depend on the turnover of your business and some affordability criteria, we can assist with the preparation of information to the bank should you require it. The applications for these loans will close on 4 November 2020.
The BBLS range from £2,000 to £50,000 (but restricted to 25% of turnover) and are interest and capital repayment free for the first 12 months, thereafter the interest is charged at a fixed 2.5% interest and can be spread over 5 years, you can also repay the loan early without paying a fee should you not require the full amount of funds borrowed.  The government guarantees 100% of the loan.
CBILS loans are more complex in the application process but the same eligibility principles apply but with loans of up to £5m, the government guarantees 80% of the finance to the lender. There is also a further scheme for large businesses of up to £200m of lending. These loans require more information to be provided to the bank such as management accounts, cash flow forecasts, business plans, historic accounts and details of assets so that affordability can be assessed.
VAT Liability Deferment – for payments due between 20 March and 30 June 2020 you had the option to defer the payment of this VAT until 31 March 2021. This scheme has now ended and if you cancelled you existing Direct Debit in order to stop the payment being automatically taken you will now need to set this up again.
Please also remember that any deferred VAT amount must be paid to HMRC by 31 March 2021 and any delay in the payment may be subject to interest and charges.
If you are struggling to pay any of your HMRC debts you can speak to the dedicated Coronavirus Time to Pay Service either through webchat or on 0800 024 1222 https://www.gov.uk/government/organisations/hm-revenue-customs/contact/coronavirus-covid-19-helpline.
Self-Assessment Payment on Account Deferral – if you are due to make a payment on account by 31 July 2020 for your 2019/20 tax year liability this has been automatically deferred until 31 January 2021. You can still make the payment in July as normal if you are able to do so, if you have a direct debit agreement in place this will still be taken on 31 July 2020 unless cancelled.
However, please be aware that deferring payment until 31 January 2021 will mean that you may be required to pay at that time the payment on account that would usually be due on 31 July 2020, any balancing amount that may be due for your 2019/20 tax liability and the payment on account for your 2020/21 tax liability all at the same time. By ensuring that you send to use your tax return information for 2019/20 as soon as possible we will be able to advise you of the actual liabilities due and give you time to plan for them.
Office Update
Each of our offices are open but on a limited capacity with many staff still working from home in order to maintain social distancing or shielding. We are able to work remotely in order to ensure that the level of service provided to you is maintained but understand that in some instances a visit to our offices is required.
We are able to offer face to face meetings (with certain restrictions) as well as those over the phone or by video conferencing (principally through Microsoft Teams) should you wish to. We are also asking that if you are coming in to see us or intending to drop off or collect any records that you arrange this prior to your visit so that we can try our best to ensure that cross-over of clients is kept to a minimum.
As usual we will be posting updates on our Facebook page (https://www.facebook.com/darnellsaccountants) as we hear more about the details of the scheme changes. If you are able to like and share our posts too we will be able to reach more people with the information. Finally, if you are willing to leave a positive review on our page we would be most grateful!
If you have any queries on any of the schemes above, or any other matter, please contact your usual partner or manager.
Please all continue to stay safe.
The Partners
Darnells Chartered Accountants 14 July 2020
Why Choose Darnells?
---
Accountants don't add value by looking back to tell you what has happened.
The Darnells' approach is to look at your future, how you can achieve your ambitions, how to reduce the risks and to assist you with your digital day.
Latest Tweets
Don't forget the inheritance tax annual exemption. £3k per donor a year. Use it by 5 April – but if unused you can… t.co/vTBWcHKpEa
Retweeted by Darnells
Get in touch to book your place #Employment #Law #update #breakfast
Retweeted by Darnells
Show

Media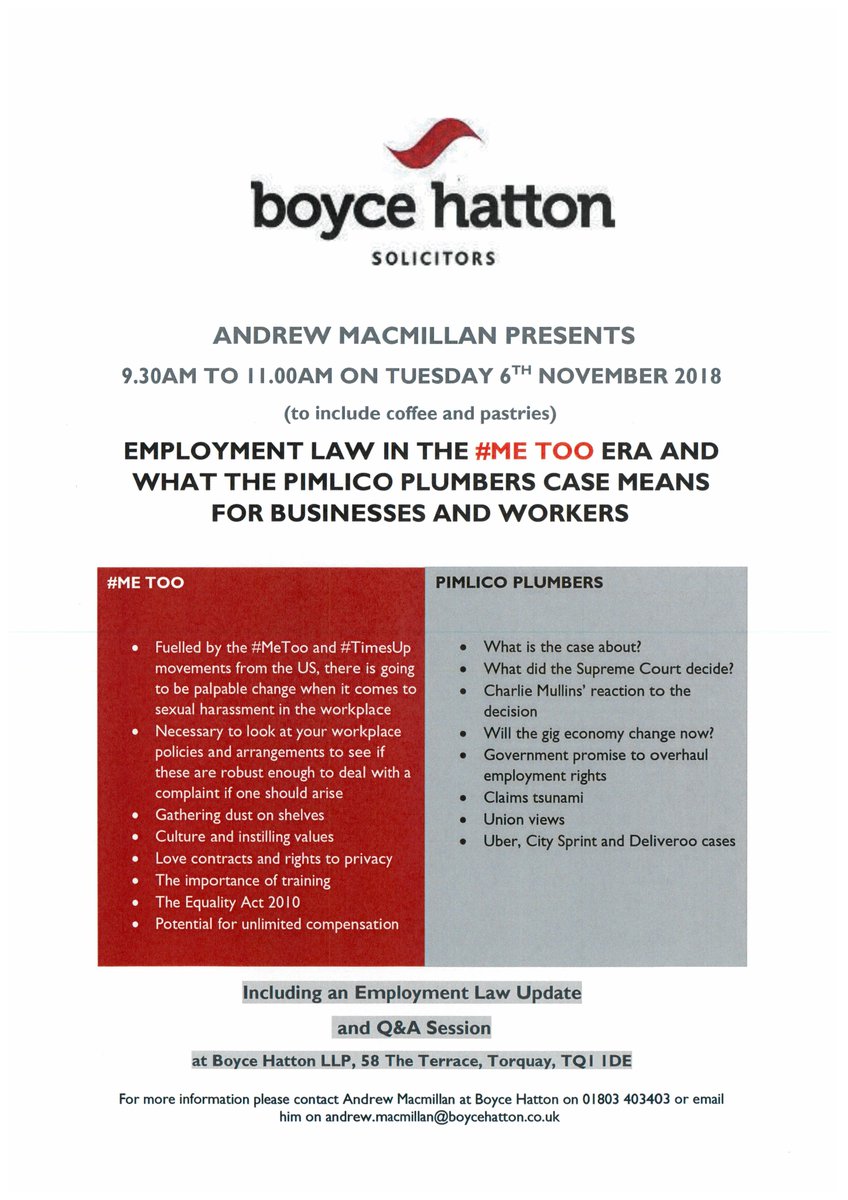 Yay! It's the WIT Christmas Party! #networking #wine who's in? @BFinTorquay @pkfFrancisClark @Darnellsaccount
Retweeted by Darnells
Show

Media